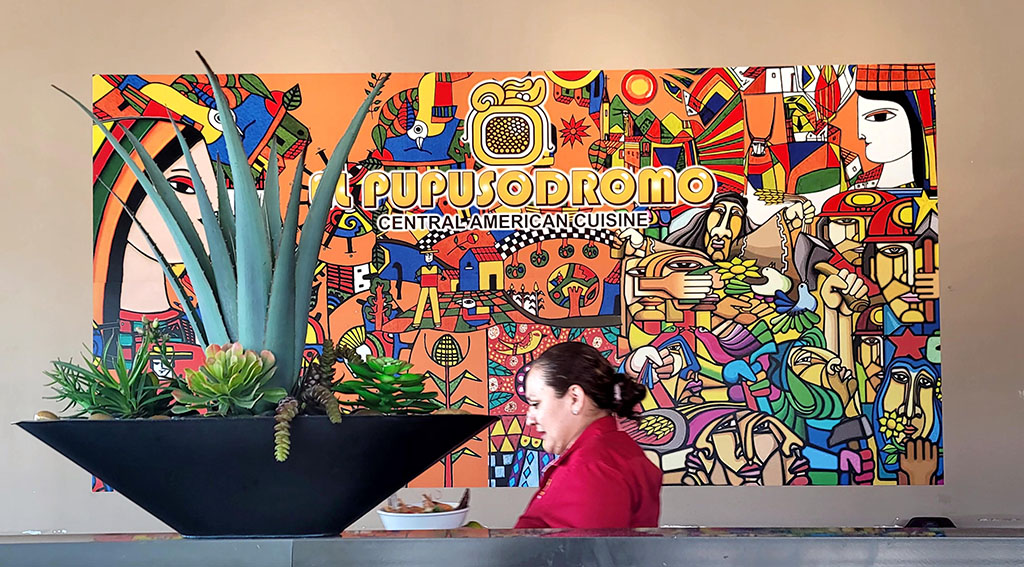 Houston has more than 90 restaurants with pupusas on their menus. But El Pupusodromo has, even beyond its popularity, a special pedigree.
It is the pioneering path taken by Luis and Maria Padilla, who, over three decades ago, began catering to the culinary nostalgia of a surging population of Salvadoran immigrants settling here.
"At that time, there was hardly any flour to make pupusas unless a relative brought it to you from Central America," said Luis. "People were eager to have the taste of our country. Filling that void became our mission."
Looking back, Salvadorans Maria and Luis reflect on the transnational and local businesses they have built, including three El Pupusodromo restaurants. One of them is located at 5902 Renwick in the Gulfton District, a favorite Salvadoran and Central American enclave in the city.
There, a colorful mural on the back wall with a Latino-inspired iconography captures the attention of incoming customers while manager Lucy welcomes them in Spanish language.
"Bienvenidos; pasen por favor!" she said on a recent afternoon for all the diners to hear, as if announcing to her family that more visitors had just arrived at home.
A courtesy dish of fried corn dough sticks and green salsa precedes any order from the menu of more than 50 items.
Among the options are typical Salvadoran corn tamales, a variety of guisados or stews. There is also the Salvadoran mariscada, a seafood combo soup that is one of the most popular El Pupusodromo plates.
Pupusas, however, are a specialty of the house, as the restaurant's name suggests. The pupusa is the Salvadoran national food, made of a thick, handmade corn or rice tortilla. They are typically stuffed with cheese, refried beans, chicharron (cracklings), and loroco, a flowering plant from Central America reminiscent of asparagus with a subtle touch of sweetness.
"We are the pioneers of pupusas in Houston; we make the best pupusas, at least in Texas," said Luis with evident pride.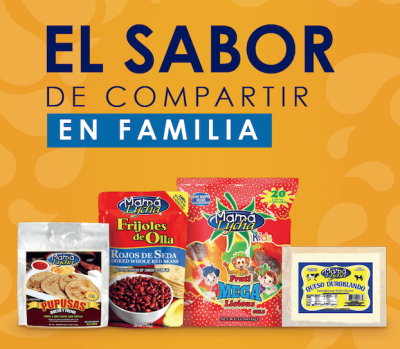 Luis and Maria said that they are cuisine lovers and created and tried El Pupusodromo's menu in their home kitchen.
One of the keys to cooking a good pupusa is achieving the perfect dough consistency. Adding too much or too little water when kneading the "masa" affects its density and texture. Luis and Maria formulated the proportion they wanted in their product to achieve that smoothness that makes El Pupusodromo's so easy to digest. That, and the warm, creamy flavor of the filling, is to many people the taste of home.
"It feels like my mom's food," said Wilmer Flores, a Salvadoran customer who ordered a "combinado" plate of two pupusas, tamal and yucca.
It was his first time at the Gulfton El Pupusodromo as he was recently working on a construction project nearby. "I will be coming back for sure."
Chances are, however, that people have tried Luis and Maria's food ingredients in other eateries or at home. With earnings from El Pupusodromo, they created the popular Salvadoran-American Mama Lycha brand in the 90s. They import and produce around 700 food products now. A large part of their production is oriented to a general consumer market, including grains, preserves, canned and frozen food, drinks and ice creams. 
The Padillas said that, besides Texas and other parts of the U.S., Mama Lycha has expanded distributions to three of Canada's biggest cities. Some of the items can also be found online on Amazon and other shopping websites.
Luis and Maria said one of their most satisfying achievements has been employing many people.
"We have generated thousands of jobs directly or indirectly in Houston, in El Pupusodromo, but especially in Central America, where we have two production plants, in El Salvador and Nicaragua," Luis said. 
The Padillas share the leadership responsibilities of all their companies, with him as president and Maria as vice president.
Thinking about their success, they mentioned a few ingredients of their secret "sauce."
"If you want to grow, you need to reinvest a lot of your earnings in the business; we always do that," said Luis.
Maria emphasized a focus on the customers. "You need to be persistent and keep the same level of quality that brought customers to your restaurants in the first place," she said alluding to El Pupusodromo. 
But the most important ingredient, she said, is passion.
"When you start you have a lot of dreams, but it's all about the daily work; it takes so much effort that you cannot see the end of the tunnel," she said."To reach goals, what has driven us has been work, work, work, and a lot of passion for what we do."
 "Dreaming together, working together, and a lot of passion; that's also the secret of our 44 years of marriage."
El Pupusodromo
5902 Renwick Drive
Houston 77081
713-661-4334
elpupusodromo.com/

Open 10 a.m. – 8 p.m. daily

— By Olivia Tallet